I love this "Taxi Booking" iphone/ipodtouch app from Comfort Delgro Singapore.
Booking a cab is such a breeze and quite fast compared to other iphone taxi booking apps.
It's reliable too. Once you fill in the necessary details like Pick up points, type of taxi you prefer, how many taxis you needed
you're all set to go.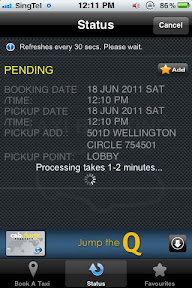 Waiting time around 7-10minutes.
Another cool feature that I love is the Advance Booking options.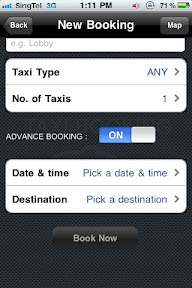 There's a $2.50 booking charge by the way. For me, it doesn't matter because it saves you the hassle in looking for a cab like on my part where I need to take my dog to a grooming session or somewhere.
Subscribe now for more cool iphone/ipodtouch/ipad updates.
Thanks !!!
- Posted using BlogPress from my iPhone