This is a follow-up blog on my "How to Install iMovie on the Orig iPad".
After I've installed iMovie on my iPad 1, I've learnt that iTunes won't let you sync everything on your ipad anymore like iphotos album, music and newly installed apps.
A have a quick-around process to resolve this.
To do so, you need to use IPhone Configuration Utility all the time.
If you want to sync new photos, music or apps on your ipad, just hit on "Deauthorise" button when it pops out. This will delete imovie and lets you sync everything from iTunes like you used to.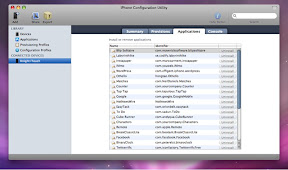 Important:
Make sure you have no pending projects on hand because this process will also delete all your imovie projects.
Me? I do this after I am done with a certain project then when I need to shoot videos on my iphone again , I do it in one go and then sync.
After syncing everything, open iPhone Configuration Utility , click on your device and install imovie back again. It should be fast so no worries. :)
Hope this helps.
That's all for now.
Hit me some questions and I will try to answer.
Thank you.
- Posted using BlogPress from my iPhone