Finally! Facebook "Places" is active in Singapore!
Some of my friends have been asking me on how to do this so I thought it's cool to add this little tutorial in here.
First, you need to make sure your Location services is active or been turned on.
To check, go to "Settings" in your iphone.
Click "General" then activate "Location Services to On".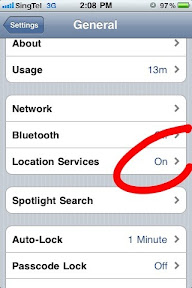 You will have options which app you want to activate the service. I only chose few iphone apps like geo-location services app FourSquare and Gowalla because it drains alot of my iphone's battery.
You can now goto your Facebook profile and click "Places".
Enjoy your journey!:)
- Posted using BlogPress from my iPhone