So happy today. I received another Google check from blogging.
Google never disappoints me so far. When they informed me that they're gona send out the check on 31st of May, they did!
Google can really be trusted!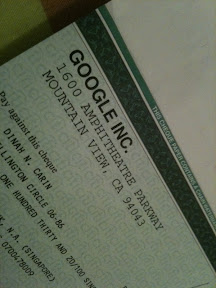 Tonight when I checked my mailbox, it was right there smiling at me. Hahah!
Thank you Google!
Mmmm...
I just want you to know that internet has great opportunities in earning $$$. You click this and that and poof, someone, somewhere is turning into a millionaire.
It's not easy. But it's not tough either. You just need to know how everything works in the world wide web, know your passion and just blog it.
Just so you know, patience will play a big part in this field.
Follow me and will be posting some of my little techniques that in some ways might add up to your knowledge.
Click subscribe now.
See you soon!