Praying for Steve Jobs.
So sad his billions cant heal his cancer :(
Steve Jobs, if I talk to my God about your condition and then He will heal you even if you don't believe in Him.
Will you come back to Him?
Mmmmmm... Let me know ok.
I have mentioned you to Him and He is now listening.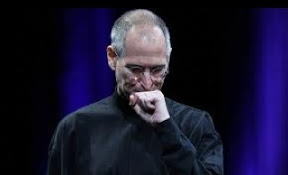 'Cancer-stricken' Apple boss Steve Jobs may have just 6 weeks to live'
London, Feb 17: A tabloid has claimed that Apple founder, Steve Jobs, is stricken with pancreatic cancer and may have just six weeks to live.
The National Enquirer has published new pictures of the man behind the iPod, iPhone and iPad suggesting that the things are worse than Apple would have the world believe.
The new photos show Jobs looking painfully frail and weak, with his jeans and dark top hanging loosely on his 6ft 2in, rail-thin body.
Jobs weight is said to have dropped from a pre-cancer 175lb to 130lb now, according to the National Enquirer.
His thinning hair is a sign of the effects of the advanced chemotherapy usually used to treat the disease.
The photos, which were taken on February 8, showed Jobs going for breakfast with his wife Laurene Powell before heading to the Stanford Cancer Centre in California.
"Judging from the photos, he is close to terminal. I would say he has six weeks," the Daily Mail quoted critical care physician Dr Samuel Jacobson as saying.
"He is emaciated and looks to have lost a lot of muscle mass, which spells a poor prognosis," Jacobson added.
Copyright Asian News International/DailyIndia.com
- Posted using BlogPress from my iPhone